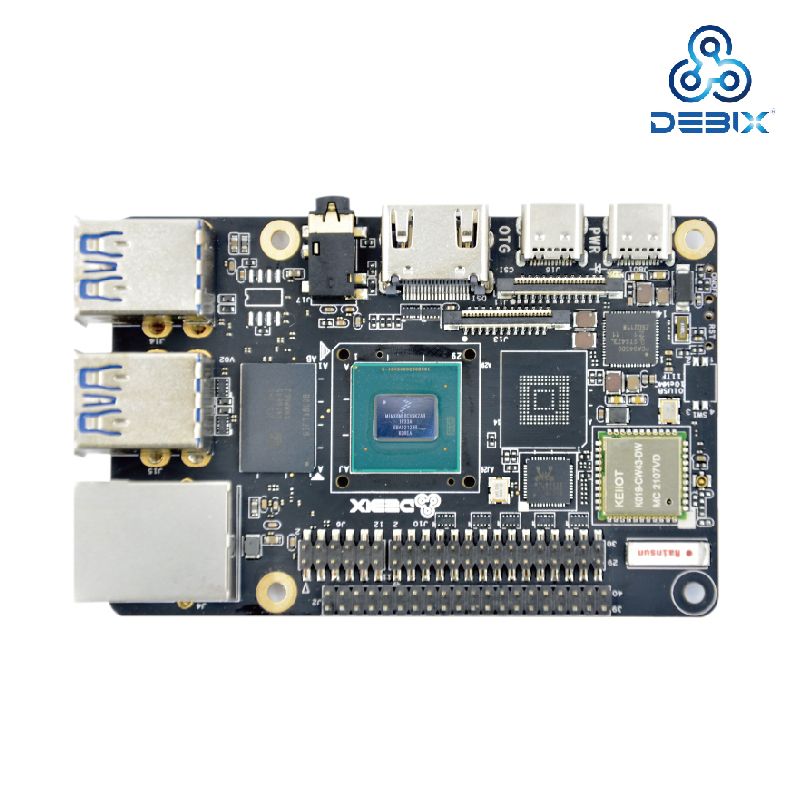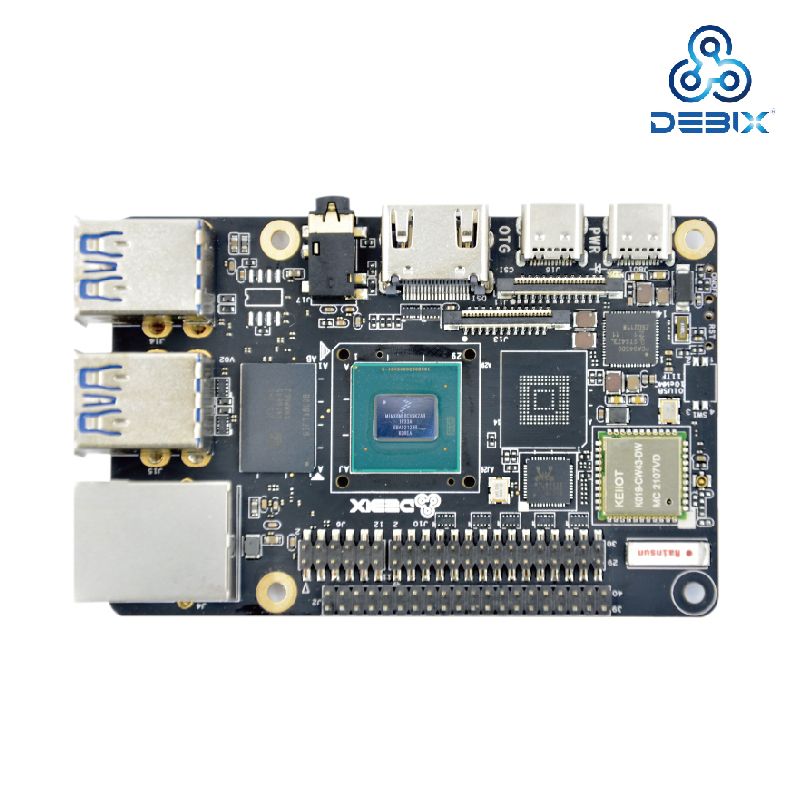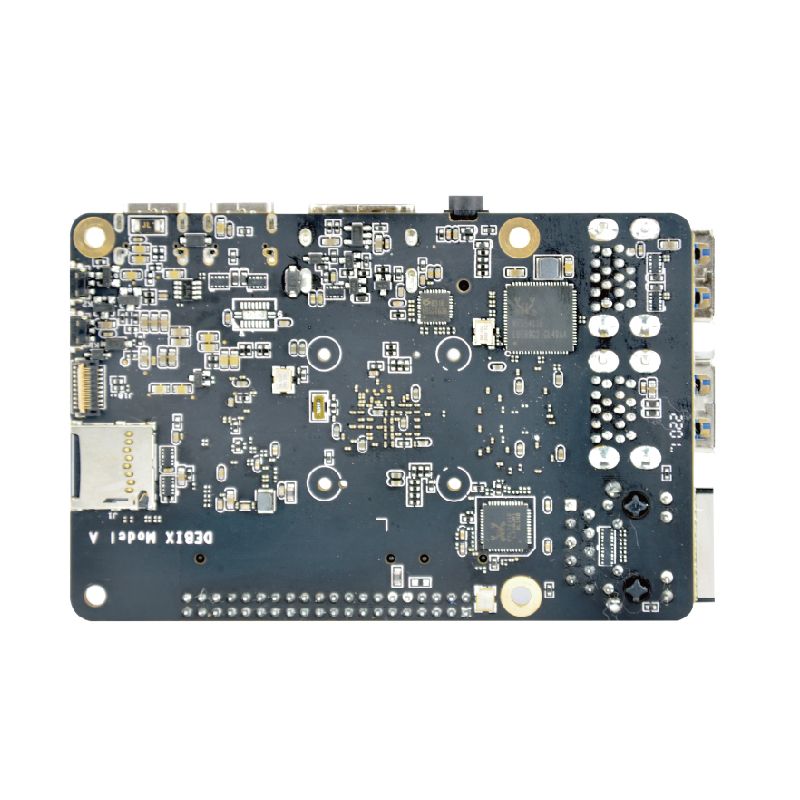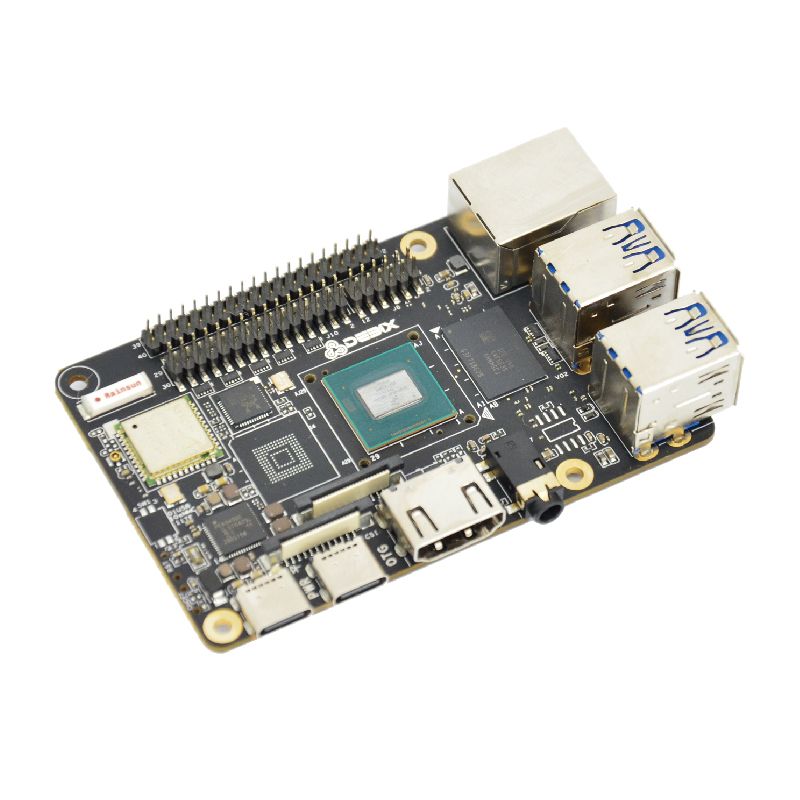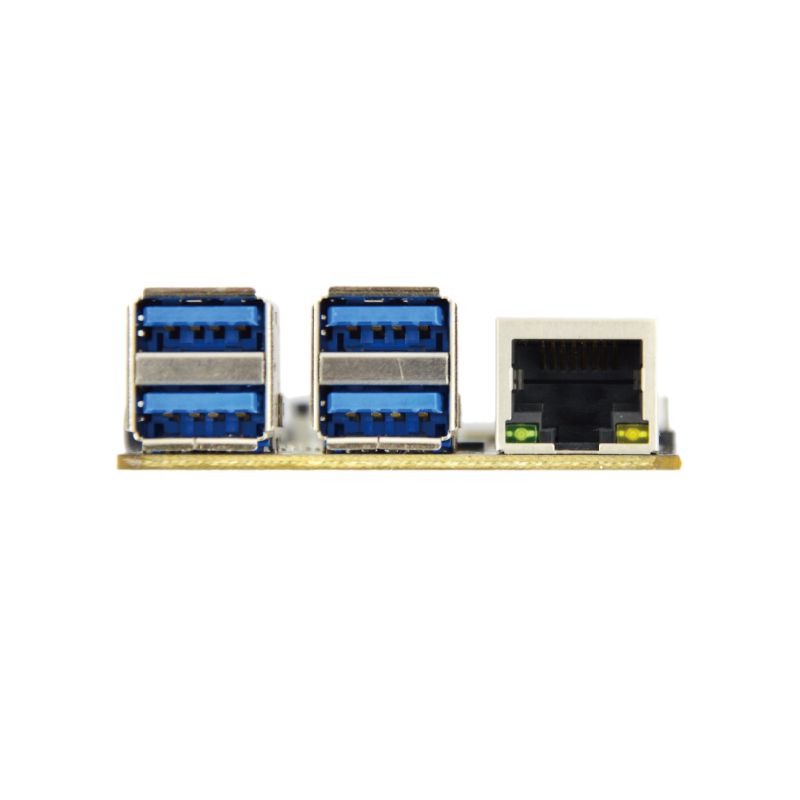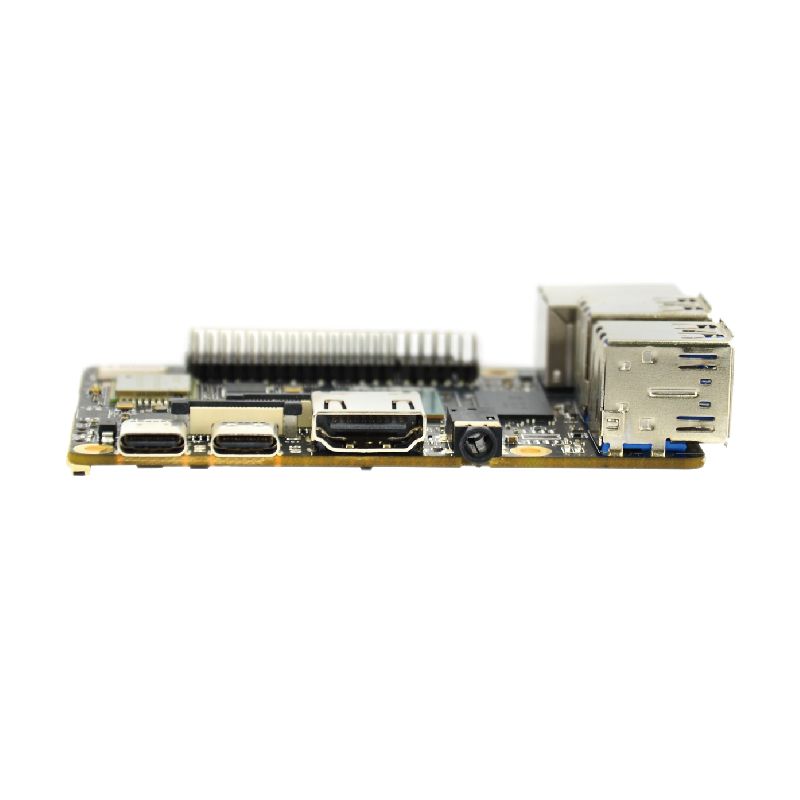 DEBIX Model A: Industrial Single Board Computer
Model:DEBIX Model A
Features:
Model: DEBIX Model A
PLEASE NOTE: You can visit DEBIX Brand Website for more information and technical support.


Overview:
DEBIX Model A is an industrial grade single board computer to bring you faster speed and more powerful performance. Based on quad core i.MX 8M Plus with 2.3 TOPS NPU, DEBIX Model A with complete software development and rich I/O ports is ready and capable for direct applications in industry 4.0, IoTs, smart cities and multimedia.
DEBIX Model A features industrial grade components and wide CPU temperature range of -40℃ to 105℃ to work stably in extreme environment. Its DDR inline ECC design and 14 FinFET process ensure high industrial reliability. Combining Gigabit network, 2.4G & 5G Wifi and Bluetooth 5.0, it provides robust network control of peripherals in industrial control, industrial automation and IoTs. With quad core ARM Cortex-A53 CPU up to 1.8GHz and 2GB/4GB/8GB LPDDR4, it is able to perform sophisticated processing tasks.
Main Features:
· Powerful industrial grade single board computer built to meet the needs of industry 4.0, IoTs, smart cities and multimedia
· Complete software development including Android 11/Yocto-L5.10.72_2.2.0/Ubuntu 20.04/Windows 10 IoT Enterprise operating system and basic software for fast and direct applications
· Gigabit network, 2.4GHz & 5GHz Wifi, Bluetooth 5.0, high-speed USB 3.0 and PCIe support connection and control of a variety of industrial peripherals
· Advanced multimedia capabilities include 1080p60 video encode and decode (including H.265, H.264), 3D/2D graphic acceleration, and multiple audio and voice functionalities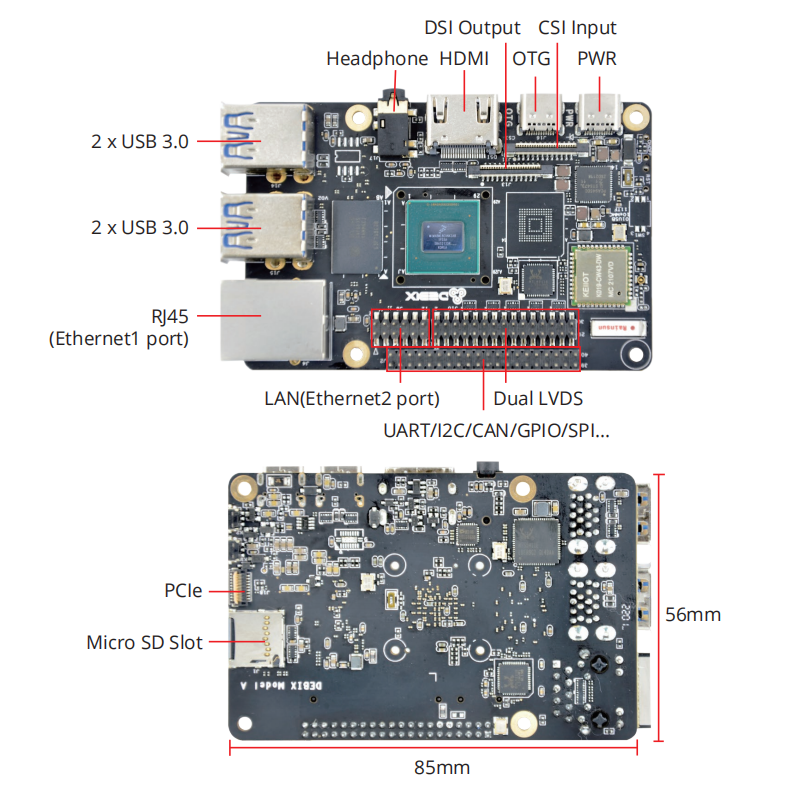 Product Version
DEBIX Model A has two versions, the standard and SE version. Their differences lie in the CPU modules, see the table below for details.

| | | | | |
| --- | --- | --- | --- | --- |
| Version | NPU | VPU | ISP | HiFi 4 |
| DEBIX Model A Standard | 1 | 1 | 1 | 1 |
| DEBIX Model A SE | N/A | N/A | N/A | N/A |
DEBIX Model A Standard/SE Specification
System

CPU

NXP i.MX 8M Plus (default), 4 x Cortex-A53, comes with an integrated neural processing unit (NPU) that delivers up to 2.3 TOPS. Industrial grade CPU runs at 1.6GHz, and commercial grade CPU runs at up to 1.8GHz.

(i.MX 8M Plus series CPU optional)

Memory

2GB LPDDR4 (4GB/8GB optional)

Storage

Default: Micro SD card (Onboard 8GB/16GB/32GB/64GB/128GB eMMC optional)

Operating System

Android 11, Yocto-L5.10.72_2.2.0, Ubuntu 20.04, Windows 10 IoT Enterprise
Note: 4GB and 8GB LPDDR4 supports Windows 10 IoT Enterprise, we recommend the 8GB version.

I/O Interfaces

Gigabit Ethernet

1 x RJ45 with POE power supply (need POE power device module)
1 x pin header (without network transformer)

WIFI & BT

2.4GHz & 5GHz WIFI IEEE 802.11a/b/g/n/ac, BT5.0

USB

4 x USB 3.0 Host Type-A, 1 x USB 2.0 OTG Type-C

Audio

1 x Headphone and Mic combo port

HDMI

1 x HDMI OUT

Expansion

40-Pin Double-Row Headers

(1) 3 x UART, 2 x I2C, 2 x SPI, 2 x CAN, 6 x GPIO for default, can be reused as I2S, PWM, SPDIF and GPIO through software configuration.

(2) 5V power supply, system reset, ON/OFF

LVDS

1 x LVDS, single & dual channel 8bit, double-row pin headers

MIPI CSI

1 x MIPI CSI, support 4-lane 24-Pin 0.5mm Pitch FPC socket

MIPI DSI

1 x MIPI DSI, support 4-lane 24-Pin 0.5mm Pitch FPC socket

PCIe

1 x PCIe, support PCIe x1, 19-Pin 0.3mm Pitch FPC socket

Power Supply

Power Supply

DC 5V/3A Type-C

Mechanical & Environmental

Size

85.0mm x 56.0mm

Operating Temp.

-20℃ to 70℃
NXP i.MX 8M Plus, 2.3TOPS NPU, 800MHz MCU
2GB-8GB LPDDR4, Micro SD card or onboard 8GB-128GB eMMC optional
Android 11, Yocto-L5.10.72_2.2.0, Ubuntu 20.04, Windows 10 IoT Enterprise